Welcome to Spray & Relax
Stronger than most - better value than all others!
Nothing to prove here.

Spray & Relax works, you don't. Spray onto any exterior surface excluding polycotton tents and simply walk away - the weather will do the rest. No waterblasting or scrubbing. This product is non caustic, non bleach and non acidic.
Spray & Relax was formulated by Burrows Roofing Co. Ltd many years ago with the help of an industrial chemist. Over a 49 year period Burrows Roofing Co. Ltd have sprayed over 22,000 roofs and thousands of metres of driveways, decks, tennis courts etc.
Just follow the instructions on the label --- it is that easy!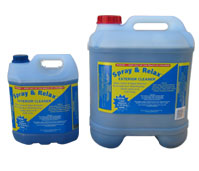 20 litre Spray & Relax
just $187.00
New - 10 litre Concentrate $97.00

Order now
We will invoice you - payment not required with order!!!